Click on any Image to see a clearer view.
If you played football in Tasmania & you would like your photo added to this page please send your footy photo in your local Tasmanian club colours to see your photo added to our A-Z Tassie Footy page.
(Photos can be emailed to damien.dillon@gcc.tas.gov.au or dmatheso@bigpond.com)
A
Alberts Football Club – 1918 – 1919 – Junior Association Team from Launceston
Only player know is Jim Sheehan back row 4th from left looking right.
Former swimming champion
IAN STEWART ALBUERA  PRIMARY FOOTBALL TEAM

B

1902 Beaconsfield Football League – Team name unknown
Shirley Brereton (Cygnet)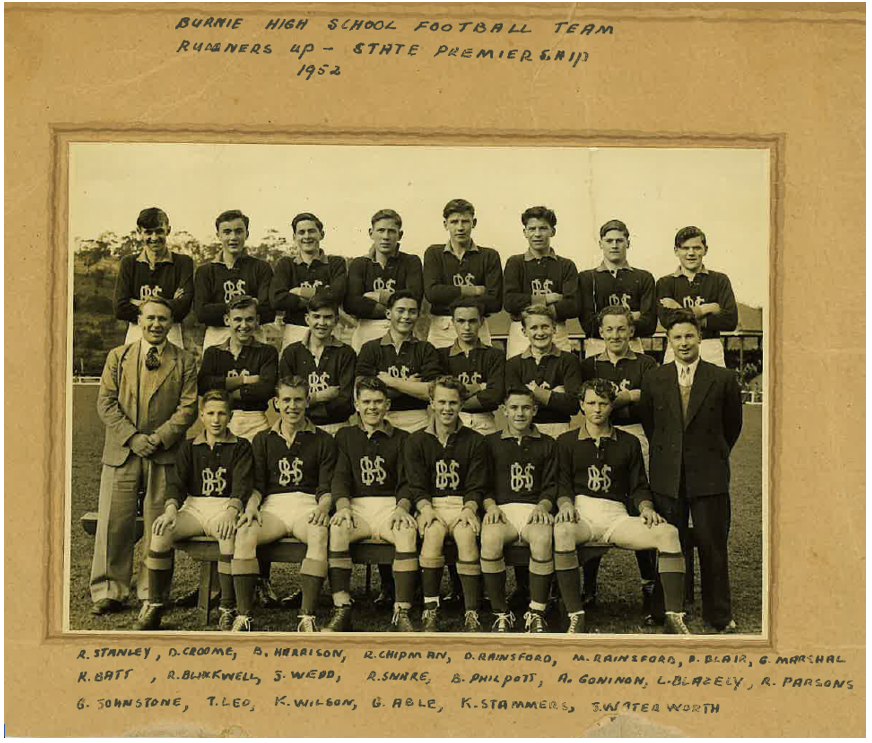 C

Adrian Collins – Tasmanian Football Historian
If you want to know anything about Tassie Football Adrian will be your man
__________________________________________
George D Challis
Launceston/Carlton, Wingman 1909 – 1915

Georgeʻs War medals & 1914 Carlton VFL Premiership Medal, 1911 Best Tasmanian Player at the ANF Carnival & 1909 Launceston FC Best Junior
Clearance of George Challis from Launceston to Victoria – April 16th 1912

> 70 games, 16 goals for Carlton, 1912-15
> Around 40 games for Launceston, 1909-11
> Carlton VFL premiership, 1915
> Launceston NTFA premiership, 1909
> Tasmanian National Carnival representative, 1911 (Adelaide)
> Bibby Trophy for best Tasmanian player at the National Carnival, 1911
> Victorian interstate representative, 1912
> Three representative matches for NTFA, 1909-11
There have been 153 VFL footballers who have given their lives in the service of their country, and there would be very few more popular or respected by the football community than George David Challis. A wingman of supreme skill and athleticism, Challis had achieved a reputation as one of the finest footballers of his era by the time his career, and ultimately his life, were cut short by the First World War.
Challis was born and raised in Cleveland in the Tasmanian midlands, the oldest of eight children. An outstanding student, he received a scholarship to Launceston High School, and excelled both academically and athletically. He began his football career at the Launceston Football Club in 1909, and in his first season he made a huge impression, starring in the Blues' NTFA premiership and representing the NTFA against the TFL for the first of what became three consecutive years. In 1911 he was selected to represent Tasmania at the second Australian Football Carnival in Adelaide, where he would emerge from the tournament as his state's stand-out performer, winning the Bibby Trophy as recognition of that fact; this was no mean feat in a team containing other legends such as captain Jack Gardiner and champion full back Algy Tynan.
Challis' performances at the carnival immediately caught the attention of every VFL club, and it was Carlton who swooped on the talented 22-year-old. Challis, who had graduated from university with a teaching degree and taken a position at his old high school in Launceston, saw the opportunity to enhance both his professional and sporting careers with a move to Melbourne, and so relocated to Victoria, making his VFL debut for the Blues in the first match of 1912. He would play all 20 games for the season, including the Blues' shattering four-point preliminary final loss to Essendon, and would also gain representative honours as part of Victoria's interstate team. By season's end many observers were heralding him as one of the best players in the league, an especially impressive feat considering he had undergone the transformation from rover/half forward flanker to a wingman of singular prowess. While his skills dazzled any who saw him play, his outwardly friendly and pleasant demeanour added yet still to the young man's popularity within the football community, leading some to dub him 'Cheerful Challis' and 'Genial George'.
On field, Challis' star continued to shine brightly through 1913-14. Unfortunately, the popular star missed the Blues 1914 premiership through injury, however the following year he was back and better than ever, and was reckoned by many to be best afield in the Blues' 33-point premiership win over Collingwood. That success would turn out to be Challis' 70th and final game for the Blues, as shortly after that triumph Challis was on a troop ship bound for the Western Front of the First World War. Ironically, if Challis has had his way initially, he would have missed the 1915 premiership as well – he had tried to enlist soon after the outbreak of hostilities, but had been rejected on physical grounds as some of his toes overlapped. Eventually, with the demands for fighting men reaching epic proportions, Challis' minor physical ailment was overlooked.
As a member of the 58th Battalion, 1st Australian Infantry Force (AIF) he eventually rose to the rank of Sergeant, and was killed during the operation known as the Battle of Fromelles in March 1916, when he was the victim of a direct shell hit on his trench near the village of Armentieres. He was just 25 years of age. News of his death was met with shock and sadness in Melbourne, and with significant grief in his hometown of Cleveland. His loss was made even more profound by the fact that Challis had paid a visit to the local school before he had shipped out, departing with the promise, "When I come back, I'll teach you boys the finer points of the game."
George Challis was without question one of the most talented and popular footballers from Tasmania to have played the game at the highest level, and even a century after his death his name is still a revered one both within the Carlton Football Club and the Tasmanian football fraternity.
#LestWeForget
Tim "TURBO" Carter    (OHA)                     Dale "BRUNO" Cleary (OHA)
2002 SFL Regional Premiers – (Cygnet)
D
Micheal "PUD" Darcy (Cygnet)                          Damien Dillon & Greg Gordon (Cygnet Legend)
E
F
1962 Fingal District Football Association Representative Team  versus WTFA – 23rd June
1962 Fingal District Football Association Representative Team  versus NEFU – 14th July
Fingal Football Club (Year Unknown)
1975 Fingal FC – Premiers

1960ʻs G P Fitzgerald Football Team
1903 Franklin Football Club
1906 Franklin Football Club
Football @ Fingal 1st July 2017 – East Coast Swans v Tamar Cats
G
Greg "DUCKY" Gordon (Cygnet)

1932 Gray Brothers Football Team

1934 Gray Brothers Football Team

1949 Government Printers Football Team

1946 Hydro-Electric Commission Team
HYDRO FC 1947
bruce godfrey 3rd right front row
lionel matheson 2nd right player middle row
                                                                                                   Pat Hartnett   (Cananore)                                      Peter Hudson (Glenorchy)
                              Kathryn "FLASH" Hodgman (Cygnet)
I
J
K
1902 Kermandie Football Club
1906 Kermandie Football Club
Kingston Football Club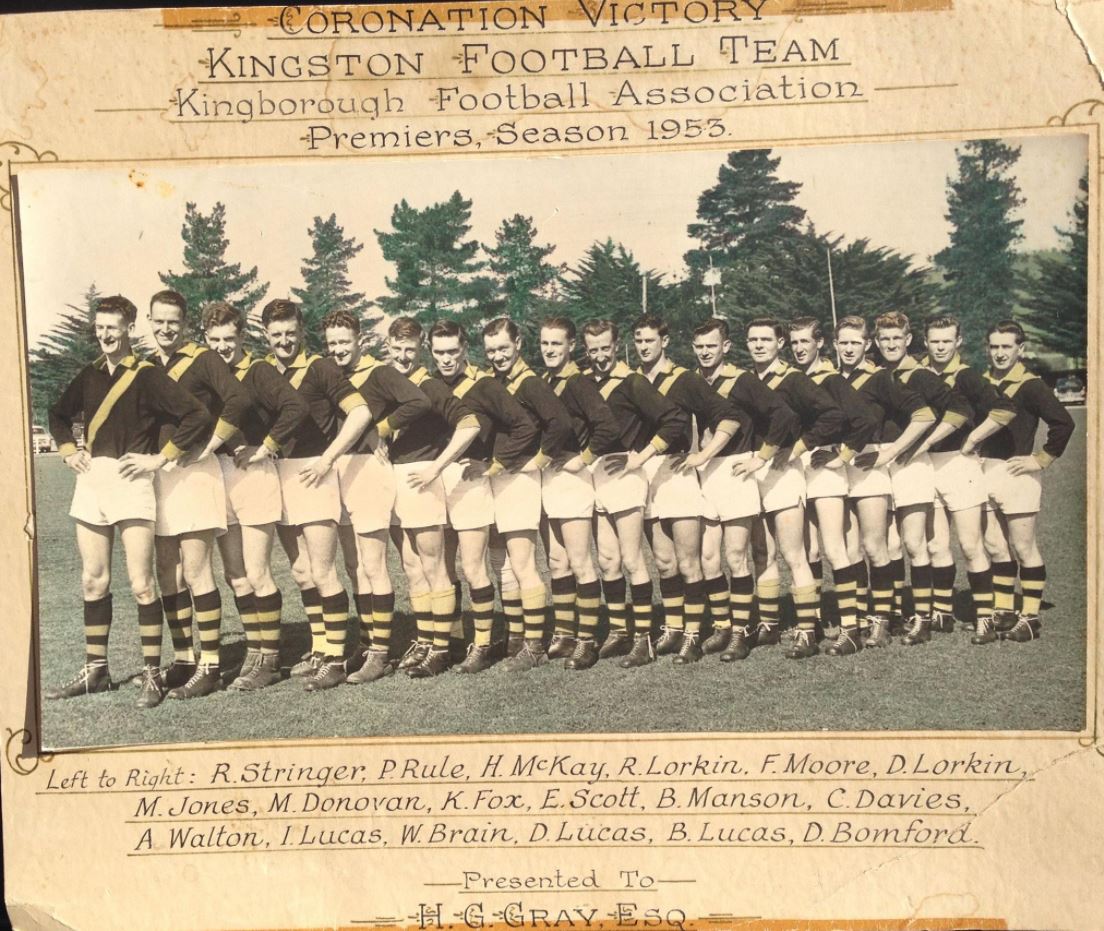 L
LINDISFARNE FC 1913
LINDISFARNE FC 1914
LINDISFARNE FC 1920

1924 Lindisfarne FC – Premiers
1925 Lindisfarne FC
BILL WAS BENCH COACH LINDISFARNE FC PREMIERS 1982
LINDISFARNE (south) PRIMARY FOOTBALL TEAM 1957-PREMIERS
names below
LINDISFARNE LULUS AT NTH HOBART 1958 from SFL g/f program 2018
billie burns 5th left
LINDISFARNE U/19S 1959 -T KEAN CAPT -newtown oval
PREMIERS 1961
1961 PREMIERSHIP CAKE -left  CAPT- DOGS HUDSON -SNOWY MORGAN -VICE CAPT- KEN WEEDING
PREMIERS 1962-absent -capt-dogs hudson
LINDISFARNE NORTH PRIMARY SCHOOL 1962 CAPTAIN PETER NUNN VICE CAPT GEOFF CLAYTON-lindisfarne no. 2 oval
LINDISFARNE U/19S 1963-CAPT JAKE CHIVERS -MASCOT GEOFF-JNR-FRIER  -newtown oval
1-ST LINDISFARNE BOWEN CUBS FOOTBALL TEAM 64/65 -richmond oval
LINDISFARNE NORTH PRIMARY PREMIERS 1966
1968 Lindisfarne Under 17s – Premiers TFL B Division
LINDISFARNE U 19S 1969=PHOTO- JOE  BARNETT
from left- k best capt -r priest vice capt -g clayton  b/f
ROSE BAY HIGH -SENIOR TEAM 1971
LINDISFARNE U17S 1972 New Town Oval
LINDISFARNE  U-19S 1972

From left mascot G Midson – P Colrain – D Charlesworth – J Thurley – D Jack – V Moss – C Oakley-
G Geard – S Cosgrove- S Marshall – C Dillon –  R Cashion  – W Matheson –
T Jack – M Leitch – ? Pearce – P Cooley – M Free – G Midson – W Piper – D "Jezza" Gorringe
LINDISFARNE FC 1975 -cadburys oval
1976 Lindisfarne FC
LINDISFARNE FC 1979-1st roster game
1981 Lindisfarne FC
1982 LINDISFARNE FC PREMIERS
1988
MICKY O= LINDISFARNE FC MAY 30 2013
LONG BEACH CLUB- PREMIERS 1949 -QUEENBOROUGH ASSN
MATHINNA FC 1901
1939 Macalburn Under 19 Team
                  N 
NEFU REP TEAM 1958 TAKEN AT YORK PARK
NORTH EAST FOOTBALL UNION -REP TEAM EARLY 60S -GEOFF LONG -MIDDLE FRONT ROW
O
2008 OSFA Premiers – OHA Football Club
Pioneer – Gladstone  1962 at Winnaleah = (Geoff Long CC. All Australian 1956 Carnival)
PIONEER GLADSTONE PREMIERS 1976
Early 1970's football match at Port Arthur
Q
R
Risdon Vale Tigers – 1960ʻs

S
1960ʻs
1954 Southern Amateurs Team
Spreyton Seniors 1973 at Railton.
Back L to R. M Belbin, G Von Schill, B Walton, P Holden, T Sheehan, R Miles,
G Sheehan, W Saville, J Martin, .. Roberts.
Front L to R. J Dell, G Holland, B Murfett, G Oliver, W Clarke, T Page,
D Hanson, C Sienesi, W Walton. Mascot Dean Von Schill
St Helens FC – Premiership Coach John Thurley 
THURLS BIG MARK AGAINST ST MARYS
St Helens School Footy Team – York Park early 2000 coach Robert McIntyre
David McIntyre back row left  Luke Matheson far right
2007 St Helens FC Seniors (L) & Reserves (R)
                                                                                  John "Bluey" Salter  (St Helens)                                           Laurie & Janet Storan (Cygnet)                                                                                                                                                                                     (Played in the 1940's & 50's)
(St Helens Gate attendents)
Alan "Chopsy" Salter & Lance Lohrey

1902 – Star Football Club, Beaconsfield
ST VIRGILS AT CLAREMONT  1980?
T
U
Tasmanian University Football Club
V
W

1923 Waterside Workers Football Team
X
Y
Z